Parents – Are You Ready to Be AMAZED !?! ?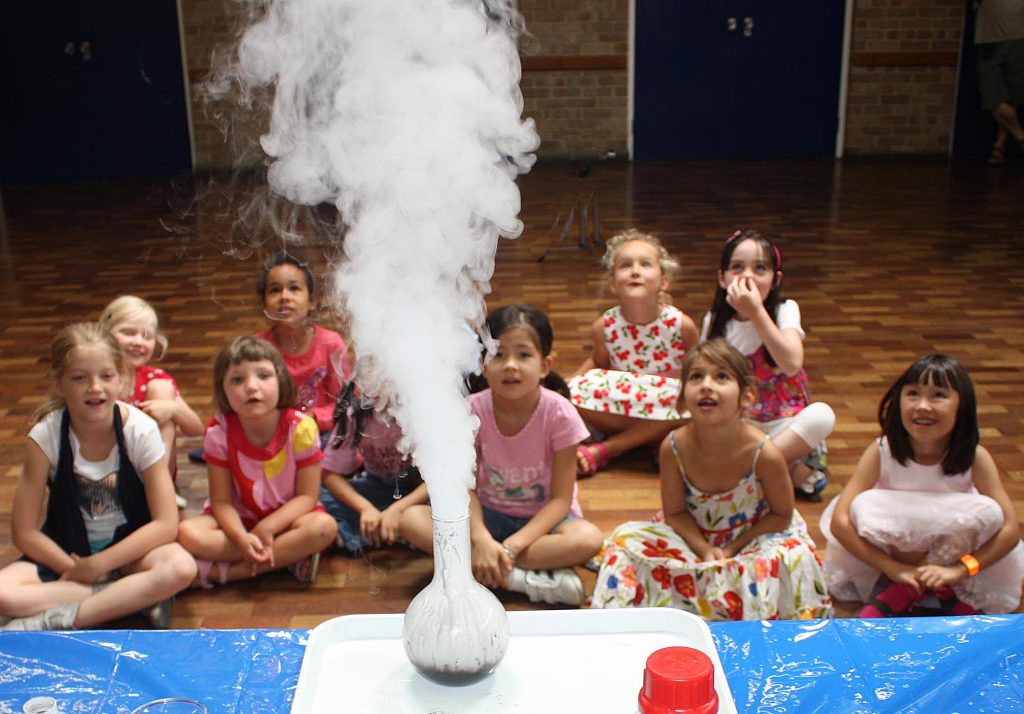 Book with confidence! As London moves into a new 'tier' level of restrictions, we want to reassure all parents that we are still running our Holiday Camps as normal and are permitted to operate our day camps at any tier level, being exempt as an educational childcare setting. All our science activities are now 'We're Good to Go' Industry Certified COVID-Safe.
Congratulations! – your search to find the best Holiday Science Activity Camp provider is at an end – MN Science Holiday Camp is the ultimate holiday mix of education, fun and indoor and outdoor science experiments and activities. Every year the Mother Nature Science Camp inspires thousands of budding scientists, ages 5- 12 years, during the Summer, Easter and Christmas school Holidays and even the half-term breaks at premium Partner School Venues.
We ensure children 'get ahead in science' during the holidays with action-packed programmes of hands-on activities exploring a spectacular array of scientific themes and topics…
Key Benefits for your Child
Everything You Need to Know
Before You Attend

Book with confidence! – Our Camps are classed as a high priority 'Children's Educational Settings, Childcare and Group Activities' and thus exempt from the new UK 'Tier' rules that came into effect for general 'Social Gatherings'. What's more, we are now certified 'We're Good to Go' COVID-Safe
Read our Camp Safety Guide for Parents Here
No quibble refunds for all bookings made
Designed as a week-long camp, for maximum benefit to your child*
* You can book 'individual days' at a premium rate and no discount is applicable. Booking for the whole week is much more cost-effective.
Open to ages 5 – 12 – tried and tested 'mixed-age' dynamic
9:00 am–3:30 pm (Extended hrs 8:30 am – 4:00 pm)
Bring a packed lunch and any snacks and drinks – only mineral water provided
All equipment provided
During the sessions
Indoor and outdoor activities – bring comfy clothes
Four classroom-based fun, hands-on, science sessions per day, with wow-factor demonstrations and take-home experiments – across chemistry, biology and physics
Three 'Playground-Activity-Breaks' per day, including football, hoola-hoops, tennis, skipping-ropes, bubble-guns, parachutes, bean-bags and stomp rockets – and more!
After Each Day
Only your nominated persons can collect your child after each day
Your receive a Parent Handout to continue the fun and learning at home
About the Venues
Located across London and Herts
Parking on street
All Childcare Vouchers Accepted (see Holiday Camp Menu dropdown above)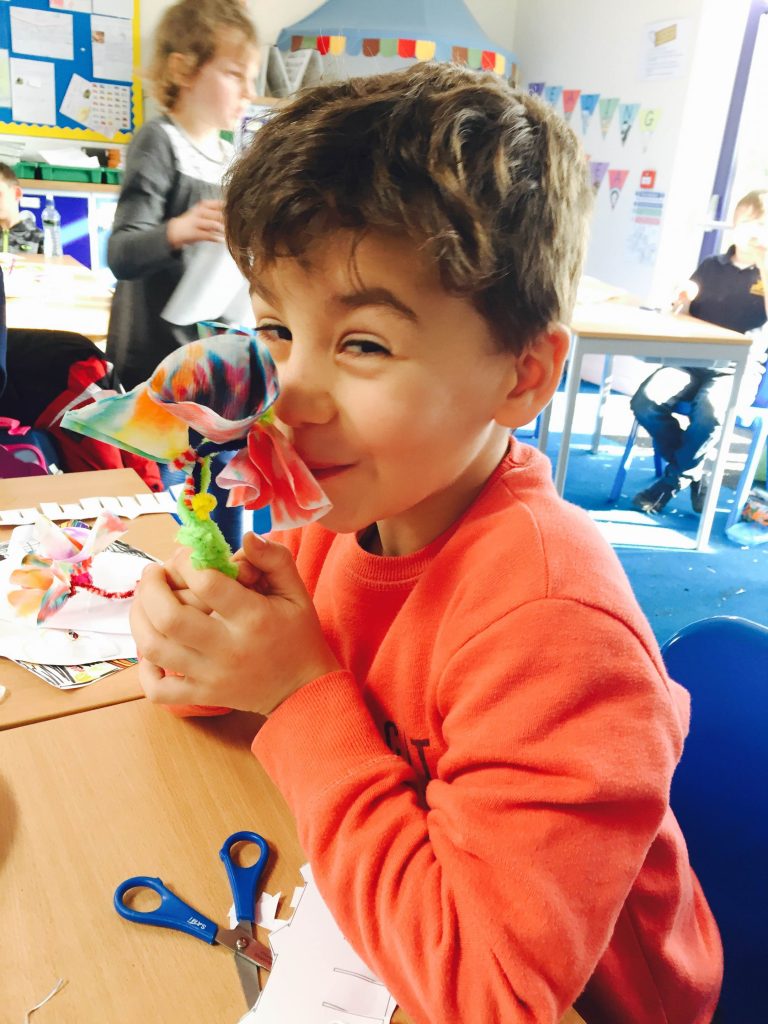 Find Your Closest Camp
1 – Enter your Postcode – to find a camp near you
2 – Choose by Season or Location – using the optional dropdowns
3 – Click Icon – and confirm full details and price on the next page
Book with confidence! – 'We're Good to Go' Industry Certified COVID-Safe and 'No Quibble' Refunds for all bookings. All Childcare Vouchers, GTFC, CGPS and Universal Credit accepted (at Checkout, just choose 'Pay by Other Method').
February Half-Term Spring Holiday Science Activity Camp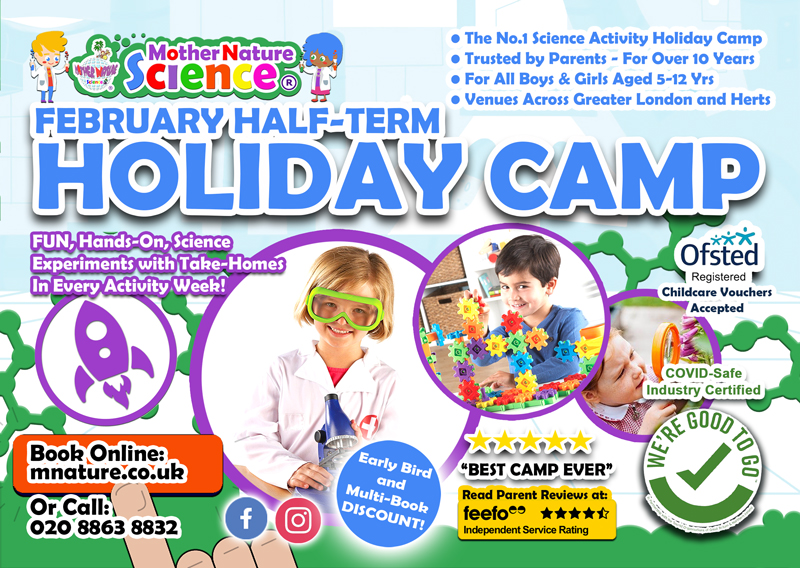 The No. 1 Parent-Trusted Premium Holiday Science Activity Camp
For Girls and Boys Ages 5-12- Only
February Half-Term (5 – days)
9:00 am–3:30 pm (Extended hrs 8:30 am – 4:00 pm – add at Booking Form)
At Select School Venues Across London and Herts | Childcare Vouchers and Cards Accepted
Early Booking Discount Available (when booking over 4-weeks in advance)
Sibling/Multi-Booking Discount Available also for Full-Week Places (see the bottom of the booking pages above for Basket Codes)
Book now
April Easter Science Activity Holiday Camp
The No. 1 Parent-Trusted Premium Holiday Science Activity Camp
For Girls and Boys Ages 5-12
March/April Easter Holidays (4 days – excluding Bank Holidays)
9am-3:30pm (Extended hrs 8:30am-4pm – add at Booking Form)
At Select School Venues Across London
Early Booking Discount Available (when booking over 4-weeks in advance)
Sibling/Multi-Booking Discount Available also for Full-Week Places (see the bottom of the booking pages above for Basket Codes)
Book now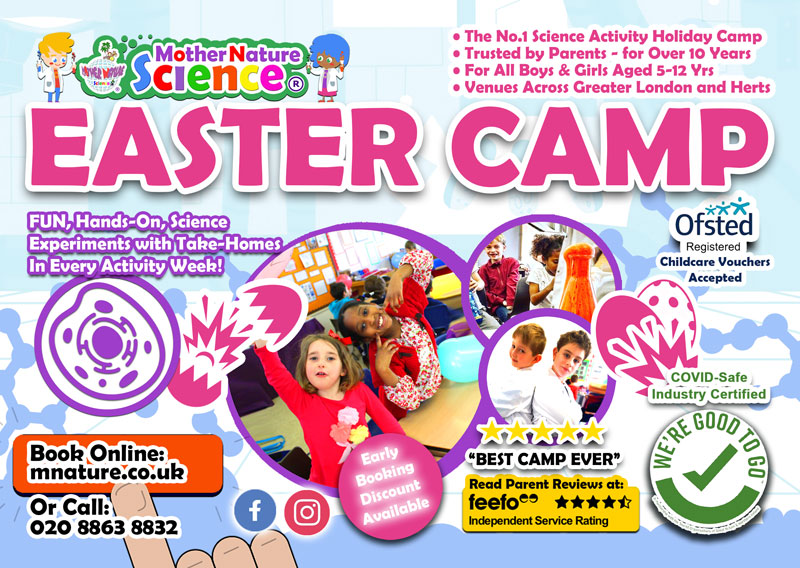 May Half-Term Science Activity Holiday Camp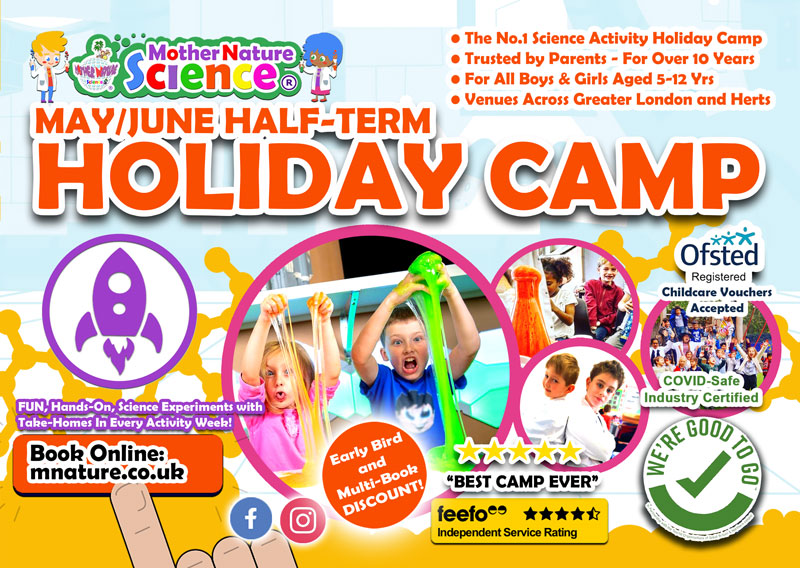 Winner 'Best Holiday Camps' voted by 1,000's of Parents in the Hoop Awards
The No. 1 Parent-Trusted Holiday Science Activity Camp for over 10 Years
For Girls and Boys Ages 5-12
May-June Half-Term (4 days – Excluding Bank Holidays)
9am-3:30pm (Extended hrs 8:30am-4pm- add at Booking Form)
At Select School Venues Across London
Early Booking Discount Available (when booking over 4-weeks in advance)
Sibling/Multi-Booking Discount Available also for Full-Week Places (see the bottom of the booking pages above for Basket Codes)
Book now
The July-August Super Summer
Science Activity Holiday Camp
International Children Welcome (must have a good grasp of English)
Winner 'Best Holiday Camps' voted by 1,000's of Parents in the Hoop Awards
The No. 1 Parent-Trusted Holiday Science Activity Camp for over 10 Years
For Girls and Boys Ages 5-12
July-August August | 7 Weeks Available – Choose a venue above
9am-3:30pm (Extended hrs 8:30am-4pm- add at Booking Form)
At Select School Venues Across London
Early Booking Discount Available (when booking over 4-weeks in advance)
Sibling/Multi-Booking Discount Available also for Full-Week Places (see the bottom of the booking pages above for Basket Codes)
Book now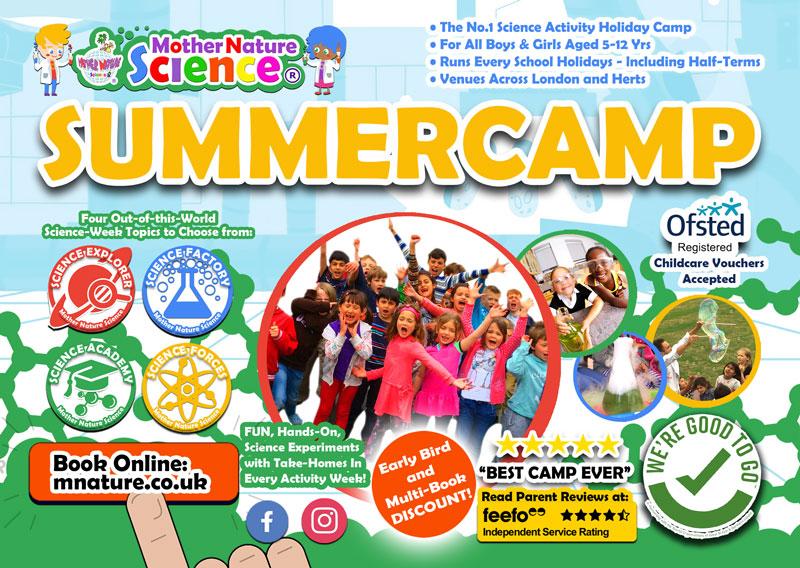 October Half-Term Science Activity Holiday Camp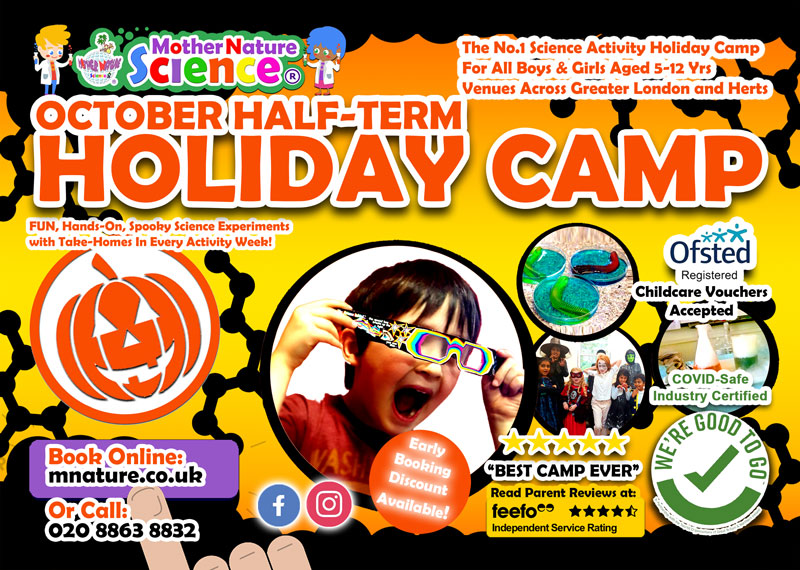 The No. 1 Holiday Science Activity Camp |For Girls and Boys Ages 5 – 12
October Half-Term (5 – days)
9:00 am–3:30 pm (Extended hrs 8:30 am – 4:00 pm – add at Booking Form)
At Select School Venues Across London and Herts
Early Booking Discount Available (when booking over 4-weeks in advance)
Sibling/Multi-Booking Discount Available also for Full-Week Places (see the bottom of the booking pages above for Basket Codes)
Book now
December Christmas Science Activity Holiday Camp
Note: there are

no Xmas Camps in 2023

.
The No. 1 Holiday Science Activity Camp For Girls and Boys Ages 5 – 12
December Holidays (5 Days)
9:00 am–3:30 pm (Extended hrs 8:30 am – 4:00 pm- add at Booking Form)
At Select School Venues Across London
Early Booking Discount Available (when booking over 4-weeks in advance) 
Sibling/Multi-Booking Discount Available also for Full-Week Places (see the bottom of the booking pages above for Basket Codes)
Book now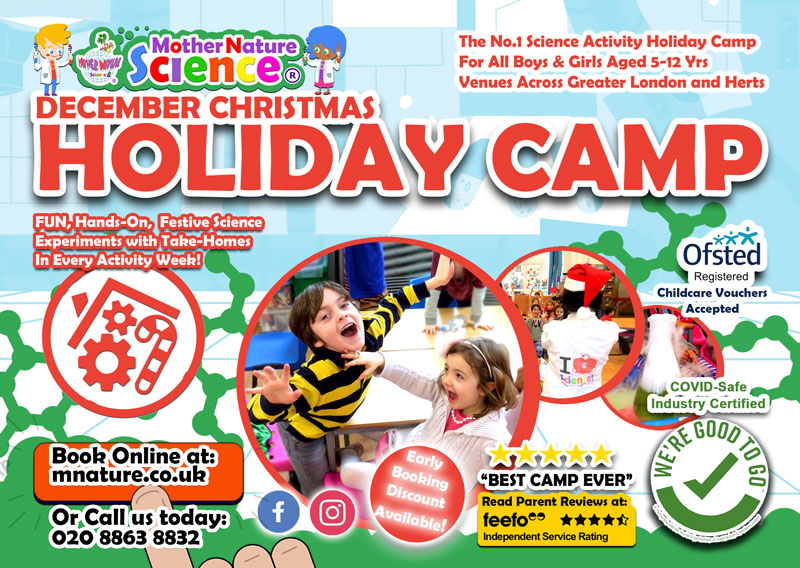 Proudly Affiliated