Description
April Easter Science Activity Holiday Camp 2020
Science Blast! – New for 2020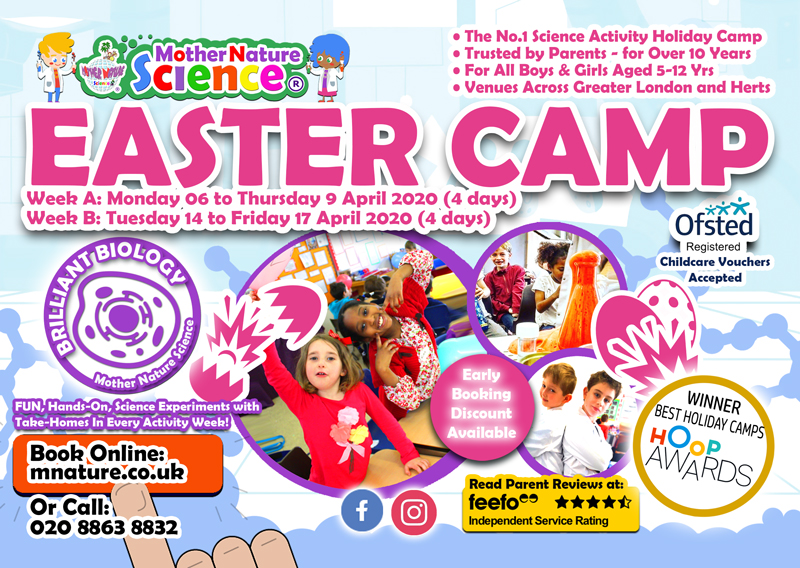 The No. 1 Parent-Trusted Premium Holiday Science Activity Camp
For Girls and Boys Ages 5 – 12
Week A: Monday 06 to Thursday 09 April 2020 (4 days)-Fri 10 April is Good Friday BH
Week B: Tuesday 14 to Friday 17 April 2020 (4 days)-Mon 13 April is Easter Monday BH
10am – 3:00pm (Extended hrs 9:30 am -3:30 pm)
At Select School Venues in Herts | Childcare Vouchers and Cards Accepted
Everything You Need to Know
Every year the Mother Nature Science Activity Camp inspires thousands of budding scientists, during all school Holidays and even the half-term breaks at premium Partner School Venues.
Before you attend
Designed as a week-long camp, for maximum benefit to your child*
*You can book 'individual days' at a premium rate and no discount is applicable. Booking for the whole week is is much more cost effective.
Open to ages 5 – 12 – tried and tested 'mixed-age' dynamic
9 am – 3:30 pm – extended hours available
Bring a packed lunch – only mineral water provided
All equipment provided
During the sessions
Indoor and outdoor activities – bring comfy clothes
Four classroom-based fun, hands-on, science sessions per day, with wow-factor demonstrations and take-home experiments – across chemistry, biology and physics
Three 'Playground-Activity-Breaks' per day, including: football, hoola-hoops, tennis, skipping-ropes, bubble-guns, parachutes, bean-bags and stomp rockets – and more!
About the Venues
Located across London and Herts
Parking on street
The Benefits for your Child
Activity Week Programme
Science Blast! – New Egg-celllent Activities for 2020
Every day at this 4-day camp is a science expedition into the unknown and over the week your child will do 30+ science activities, exciting demonstrations, hands-on experiments, team games and fun quizzes.
Every Day includes: 3 classroom-based fun, hands-on, science sessions and 3 'Activity Playground Breaks'
Disclaimer: Please note the order of the Activity Week Programme is subject to change. Should you wish to confirm the order of the Activity Week Programme at your camp venue; this will not be available until 2 weeks before the start of the camps.
Day 1: Brilliant Bodies!
We discover some amazing body facts and carry out lots of body experiments. Children gain a better understanding of how the lungs work and will make their own lung model! We investigate what happens when our teeth are left in an acidic solution for too long and make a teeth model. The children become mini doctors and learn how to use a stethoscope and monitor their heart rates!
Breathe In, Breathe Out! – We discover how our lungs work and make a working lung model.
What Big Teeth You Have! – We learn why looking after our teeth is so important and dissolve an eggs shell to make a bouncing egg!
Feel The Beat! – We discover how our hearts work and see a pumping heart model!
Bizarre Bodies! – We tried some crazy experiments with our bizarre bodies – can you roll your tongue or wiggle your ears?
Day 2: Spring Has Sprung!
Spring is a time for new life to grow – We find out what seeds need to germinate and plants to grow and create our own growing greenhouse! We look at the world of plants and find out some fruits can be used to generate electricity! We consider motion and inertia as the Easter Bunny challenges us to safely deliver Easter Eggs in a Mother Nature Science Easter Bonnet Parade. Finally, we have some sticky fun as we investigate slimes!
Plantacious! – We learn all sorts of fascinating plant facts and bring a dead plant back to life!
How Does Your Garden Grow? – We harness the greenhouse effect to create the perfect growing environment for our seeds.
Easter Bonnet Parade Challenge – Can you design a special scientific Easter bonnet to protect an egg from a messy fate?
Stuck On You! – We look at sticky mucus and create some super sticky slime!
Day 3: Amazing Animals!
Children learn the different stages in a bee's life and make a bee model. The Easter Bunny helps us discover some rabbit facts and we make a bouncing friction bunny. The children become mini palaeontologists and discover what a fossil is. We discover each stage of a frog's life cycle and learn a little about some interesting looking frogs!
Busy Buzz! – We look at the life of a hard-working insect – the honeybee!
Hop To It! – From frog spawn, to tadpole, to frog, we investigate the frog life cycle.
Bouncing Bunnies! – The Easter Bunny had hidden lots of funny bunny facts for us to find in an Easter Egg treasure hunt.
Dino Science – From Velociraptors to Tyrannosaurus Rex we unearth our favourite dinosaur details and discover some dinosaur fossils!
Day 4: Super Senses!
We investigate how sounds are made and make a very LOUD paper banger! We discover some scentsational facts and make some scented soap. Children gain a better understanding of our amazing eyes and make a spinning Benham Illusion Disc. Then we go on a journey learning about the brain and take part in fun and interesting brain experiments.
Noisence! – Some noises are really noisy – how loud is our paper banger!
See All You Can See! –We look closely at the eye structure and see some dazzling eye illusions!
What's That Smell! – We have a mystery smell challenge to test how sensitive our noses are!
Brainiacs! – We make a brain hat to display our brilliant brain power!
Remember – you as Parents will also receive a TOP SECRET Handout that tells you:
What They DID?
What They LEARNT?
Other cool science you can EXPLORE AT HOME?
When:
April Easter Holidays 2020
Week A: Monday 06 to Thursday 09 April 2020 (4 days)-Brilliant Biology!
Week B: Tuesday 14 to Friday 17 April 2020 (4 days)-Brilliant Biology!
Timings:
10 am – 3pm
Earliest drop off 9:30 am; latest collection 3:30pm, by email or telephone request
Pricing
Early Bird Discount Now in place
Multi-Booking Discount – also available (cannot be combined with Early-Bird)
Are you booking more than one week or child now i.e. Siblings or with your Friends? GREAT! Use one of the codes below to BOOST your SAVING.
I'm booking:
£10 off full price (-£5/child)  when you book 2 weeks / children – use checkout coupon code: c5
£30 off full price (-£10/child) when you book 3 weeks or children  – use checkout  coupon code: c10
£60 off full price (-£15/child) – when you book  4 weeks or children  use checkout coupon code: c15
£100 off full price (-£20/child) – when you book 5 weeks or children – use checkout coupon code: c20
Day rates:
These can be booked over the phone per day, per child on 01923 519 417