Description
April Easter Science Activity Holiday Camp 2024
Science Blast! – New for 2024
🌍 Truly International! 🌎
Every year both UK and International children fly in from all over the world for our holiday camps. All your child requires is basic level of spoken English. 😊
Book with Confidence! – Our 'Wraparound Childcare' can run as normal in any Lockdown or Tier level. All Childcare Vouchers, GTFC, CGPS and Universal Credit accepted (at Checkout, just choose 'Pay by Other Method'). We Offer Full ' No Quibble' Refunds – in the unlikely event of cancellation of for any reason you give.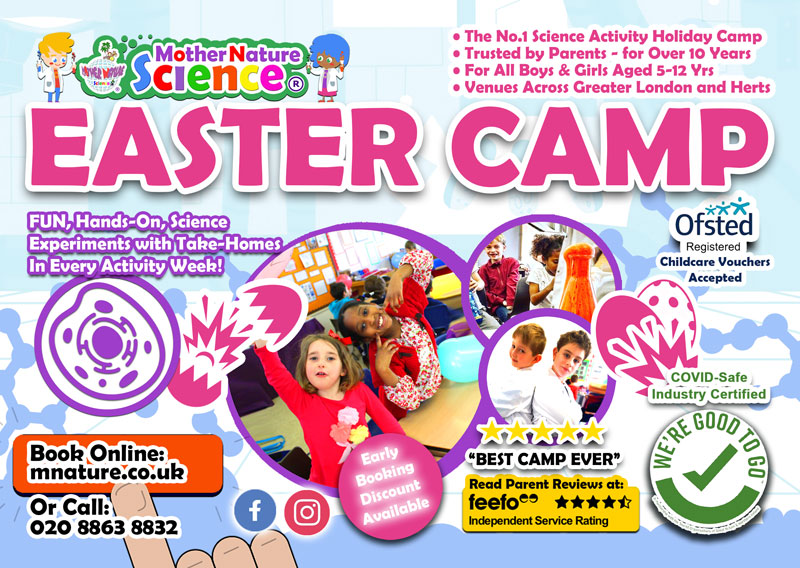 Book with confidence! Our Camps are classed as a high priority 'Children's Educational Settings, Childcare and Group Activities' and thus exempt from UK Lockdown and Tier rules
'No quibble' refunds for all bookings
For Girls and Boys Ages 5-12 – tried and tested 'mixed-age' dynamic
Classes limited to only 20 children (1:10 Staff to Child ratio)
Certified 'We're Good to Go' COVID-Safe
Dates – See Online Booking Form 'Where' and 'When' for scheduled dates at your Location. If the week is not shown for your Location, it is not scheduled at your Location. Just choose 'When' to see all Locations scheduled for your preferred Week. All default weeks listed below for reference:
Week A: Mon 25–Thur 28 Mar 2024 (4 days-Bank Holiday Good Fri 29 Mar)
Week B: Tue 02-Fri 05 Apr 2024 (4 days-Bank Holiday Easter Mon 01 April)
Week C: Mon 08-Thur 11 Apr 2024 (4 days–No Camp Friday)
Time: 9 am – 3:30 pm (Extended hrs 8:30 am – 4 pm, just add on online form)
At Select School Venues Across London
All Cards Accepted and Childcare Vouchers at Registered Venues Only
Early-Bird and Multi-Booking Discount available
Winner 'Best Holiday Camps' voted by 1,000's of Parents in the Hoop Awards
The No. 1 Parent-Trusted Holiday Science Activity Camp for over 10 Years
Everything You Need to Know
Every year the Mother Nature Science Activity Camp inspires thousands of budding scientists, during all school Holidays and even the half-term breaks at premium Partner School Venues.
Before you attend
Designed as a week-long camp, for maximum benefit to your child*
*You can book 'individual days' at a premium rate and no discount is applicable. Booking for the whole week is much more cost-effective.
Open to ages 5 – 12 – tried and tested 'mixed-age' dynamic
9 am – 3:30 pm – extended hours available
Bring a packed lunch – only mineral water provided
All equipment provided
During the sessions
Indoor and outdoor activities – bring comfy clothes
Four classroom-based fun, craft-focused, hands-on, science sessions per day, with wow-factor demonstrations and take-home experiments – across chemistry, biology and physics
Three 'Playground-Activity-Breaks' per day, including: football, hoola-hoops, tennis, skipping-ropes, bubble-guns, parachutes, bean-bags and stomp rockets – and more!
About the Venues
Located across London and Herts
Parking on street
The Benefits for your Child
Activity Week Programme
Science Blast!
– New Egg-cellent Activities for 2024
Every day at this 4-day camp is a science expedition into the unknown and over the week your child will do 30+ science activities, exciting demonstrations, hands-on experiments, team games and fun quizzes.
Every Day includes: 4 classroom-based fun, hands-on, science sessions and 3 'Activity Playground Breaks'
Please note: the programme content and order may be subject to minor change.
Day 1> Rocket Launch!
After a Getting To Know You and orientation session we become Mini Rocket Scientists! What is propulsion? We'll see in this day packed with creating your own aerodynamic arrow, hoop glider, and stomp rocket!
Getting To Know You! – Through games and activities we make sure all little scientists are prepared for a fantastic week of science fun!
Rocket 3,2,1! – We make aerodynamic rockets and consider the forces need to launch a rocket into space.
Hoop Gliders! – We all recognise a traditional aeroplane shape – here we look at some unusual flying designs.
Air Rockets! – We discover how we can harness the power of air pressure to launch mini-stomp rockets.
Day 2> Powerful Air!
Having constructed a helicopter blade, children discover the science behind Da Vinci's Catapult and try to save Eddy the Eggonaut from a sticky end by building safety drop zones!
Choppers! – It's not just aeroplanes that can fly – we investigate making our own helicopter rotors.
Catapult Comp! – We see some energy transfer in action as we shoot mini-missiles through the air.
Eggonauts! – We discuss states of matter and guess properties of different materials, then we test those predictions and try to save Eddy the Egg from a sticky end!
Powerful Air – the Fun Zone! – We re-cap the activities with quizzes and challenges designed to reinforce the day's learning.
Day 3> Starry Light!
Play with your perception of light and investigate its funky properties with your very own LED finger torch! Learn all about the fascinating experiments surrounding fire! Become an Astro Physicist, observe cool experiments, and make a light diffracting star and see how a boomerang bounces back!
Light Show! – We investigate the visible spectrum (otherwise known as a rainbow) and see a cool light show.
Flame On! – The fire triangle is the starting point of our investingation into all thing fiery.
Starry, Starry Night! – We look deep into the night sky to discover the secrets of the twinkling stars.
It Won't Come Back! – What is the difference between a stick and a boomerang – Why does only one come back when you throw it? We look at how shape affects how things fly and make our own returning frisbee.
Day 4> Outer Space!
After watching a mind-blowing science show, we discover the science behind how we see the moon in the night sky and make an astronomy device to see the phases of the moon! We then make some gooey alien slime and compete in a 'Design your own Mars Rover' competition!
The Epic Energy Journey Show! – There are so many different types of energy – but the First Law of Thermodynamics tells us that energy can be neither created or destroyed – so instead we see some amazing energy transformations.
Moon Plate! – We all know the moon – but this session will help us gain a better understanding of the moon and how it rotates around the Earth.
Design a Mars Rover! – After the moon we head to Mars! We take a closer look at the planet Mars and consider the environment and terrain before building our own Mars Rover.
Alien Slime! – We create a gooey, sticky Alien slime and learn all about non-Newtonian fluids.
Remember – you as Parents will also receive a TOP SECRET Handout that tells you:
What They DID?
What They LEARNT?
Other cool science you can EXPLORE AT HOME?
When:
April Easter Holidays 2024
Default dates below, it may differ at some locations please see booking form above.
Week A: Mon 25–Thur 28 Mar 2024 (4 days-Bank Holiday Good Fri 29 Mar)-Science Blast!
Week B: Tue 02-Fri 05 Apr 2024 (4 days-Bank Holiday Easter Mon 01 April)-Science Blast!
Week C: Mon 08-Thur 11 Apr 2024 (4 days–No Camp Friday)-Science Blast!
Timings:
Default timings below, it may differ at some locations please see booking form above.
9 am – 3:30 pm (6.5 hrs).
Extended hours: 8:30am-4:00pm. Simply add (tick) on Online Booking Form above.
Pricing
For the best price available to you, please see booking form above
Full Week Places (Discount Available)
Early Bird Discount is available! Up to 3-Weeks in advance of camp start date
Website automatically implements Early Bird Discount.
Normal Price: per week 5 days – premium hands-on science activities
Multi-Booking Discount is available, below for full-week friend group bookings, siblings and multiple weeks. Single payment transaction – only.
Places fill up 1-2 months in advance at some venues, so don't miss out.
Day Rates (no Discount):
We offer a limited amount of daily places for a higher daily charge
How to book Day places: simply place your order online normally ignoring the full-week price and at the final 'Checkout Page' in the 'Additional information' box – type your preferred day/dates or requests and select 'Pay by Other Method' ('BACS, Cheque, CV Childcare Voucher') – not Pay by Card. Our Team will then email your balance and how to pay.
Multi-Booking Discount
We reward parents who book multiple full-week places, siblings or together in a group with friends. See an example below where you can save up to £100 by booking with your friends. e.g. 👩 Sarah Booked online for her 5 friends as per below using Basket Code C20 and saved everyone £20 and £100 in total.
I'm booking:
£10 off full price (-£5/child) when you book 2 weeks/children
Use checkout coupon code: C5
£30 off full price (-£10/child) when you book 3 weeks/children
Use checkout coupon code: C10
£60 off full price (-£15/child) when you book 4 weeks/children
Use checkout coupon code: C15
£100 off full price (-£20/child) when you book 5 weeks/children
Use checkout coupon code: C20
Please note: friends in a group can also book online separately (choosing Checkout, Pay by Other Method) but one friend must pay for everyone via a single transaction bank transfer to qualify for the multi-book discount – you cannot pay separately. Available at participating offices only.
Difference payments may be requested if the codes above are misused.