Description
December Christmas Science Activity Holiday Camp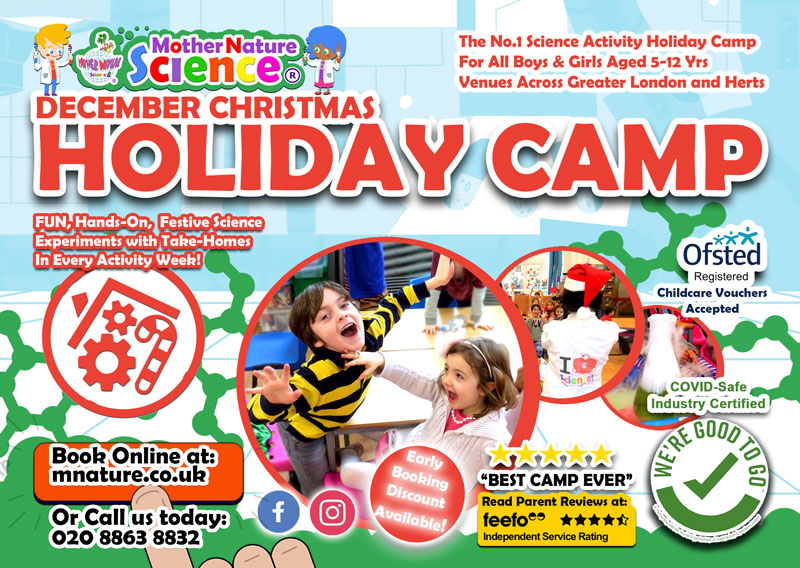 Book with confidence! Our Camps are classed as a high priority 'Children's Educational Settings, Childcare and Group Activities' and thus exempt from the UK Tier rules for general 'Social Gatherings'
'No quibble' refunds for all bookings
Certified 'We're Good to Go' COVID-Safe
Winner 'Best Holiday Camps' voted by 1,000's of Parents in the Hoop Awards
The No. 1 Parent-Trusted Holiday Science Activity Camp for over 10 Years
For Girls and Boys Ages 5-12
Dates: Monday 14 to Friday 18 December (5 Days)
9 am – 3:30 pm (Extended hrs 8:30 am – 4 pm)
At Select School Venues Across London
All Cards Accepted and Childcare Vouchers at Registered Venues Only
Early-Bird and Multi-Booking Discount – Now in Place
Everything You Need to Know:
Before you attend
Designed as a week-long camp, for maximum benefit to your child*
Open to ages 5-12 – tried and tested 'mixed-age' dynamic
9am-3:30 –extended hours available
Bring a packed lunch – only mineral water provided
All equipment provided
*You can book 'individual days' at a premium rate and no discount is applicable. Booking for the whole week is is much more cost effective.
During the session
Indoor and outdoor activities – bring comfy clothes
Four classroom-based fun, hands-on, science sessions per day, with wow-factor demonstrations and take-home experiments – across chemistry, biology and physics
Three 'Playground-Activity-Breaks' per day, including: football, hoola-hoops, tennis, skipping-ropes, bubble-guns, parachutes, bean-bags and stomp rockets – and more!
About the Venues
Located across London and Herts
Parking on street
The Benefits for your Child
Activity Programme – What They Do!
Santa's Workshop! – New Sessions for 2020
Every day at this 5-day camp is a festive science expedition into the unknown and over the week your child will do 30+ science activities, exciting demonstrations, hands-on experiments, team games and fun quizzes.
Every Day includes: 4 classroom-based fun, hands-on, science sessions and 3 'Activity Playground Breaks'.
Disclaimer: Please note the day order of the Activity Week Programme is subject to change. Should you wish to confirm the order of the Activity Week Programme at your camp venue; this will not be available until 2 weeks before the start of the camps.
Day 1> Ho! Ho! Ho!
We start the week with a virus awareness challenge, what are they, what do they do and most importantly how can we beat them?! We look at shapes and see what happens when we twist and bend them. What is ichnology? It's the study of footprints and animal tracks! What is speed? Discover how fast different things are and work out just how fast Father Christmas has to travel to deliver all your presents!
Coughs and Sneezes! -We make a virus model and learn why coughs and sneezes spread diseases.
Deck the Halls – Make some Christmas decorations with a scientific twist.
Footprints in the Snow – A snowy field is the perfect surface to track some winter animals –and make your own impression cast.
Elf Challenge – Santa Claus Is Coming To Town – We look at the field of Santa Speed Science and see how fast we can deliver Santa's Presents.
Day 2> Silent Night?
Have noisy fun and learn about sound, vibrations, and pitch and join in with the Mother Nature Carol Sing Song! We all know what gold is, but just what were frankincense and myrrh? Discover the electrical science behind Christmas lights and decorate the Mother Nature Science Christmas Tree. We discover lots of fascinating facts about light.
Jingle Bells, Jingle Bells – We jingle all the way while making some festive musical instruments.
We Three Kings – We create a precious Christmas gift (better known as Santa Slime!)
O Christmas Tree – We learn about circuits and make a light up Christmas decoration. Using our knowledge of electrical circuits we light up the Mother Nature Science Christmas Tree.
Elf Challenge – White Christmas – We shine a (white) light on our Christmas activities and work out what the colours of the rainbow are, and watch an exciting and colourful indoor firework show.
Day 3> Merry Christmas!
Putting the angel on a Christmas tree is always tricky but not if we use science to help us! Learn some reindeer facts and how reindeer are superbly suited to their environment. We work out what are the strongest shapes and how they can be used to build strong structures. Then we compete in our teams in a test of balancing skills.
Hark! The Herald Angels Sing – Create your own balancing angel to top off your Christmas tree.
Rudolph The Red-Nosed Reindeer – Help Rudolph race with friction science to deliver presents with Santa.
Build a Christmas Tree – Using strong shapes we build a tall Christmas tree.
Elf Challenge – Reindeer Relay We test our balancing skills in a Racing Reindeer Relay game.
Day 4> Snowy Snow!
Investigate states of matter and create a special Christmas candle. Every snowflake is unique, we discover how they are formed. While vibrating spaghetti and hearing an ancient roaring instrument, we learn about sound resonance. We compete in teams to make the best snowman for our Elf on the Shelf Challenge.
Light a Little Candle – Solid, liquid and gas – we explore some states of matter and make a Christmas candle.
Let It Snow – make your own beautiful snowflakes and decorate them using the science of chromatography!
Little Drummer Boy – We have noisy fun while discovering vibrations and frequencies, then make our own frequency drum.
Elf Challenge – Do You Want to Build a Snowman? Our Elf on the Shelf has challenged us to build the biggest and best Snowman!
Day 5> Festive Fun!
Friction slows things down, but there's no stopping our scientists helping Santa get down the chimney and discovering some ancient maths puzzles and patterns. We look at seed dispersal and find out how pinecones spread their seeds. As it is the end of the week and nearly Christmas, it's time for the North Pole Christmas Party!
When Santa Got Stuck Up the Chimney – We learn some fabulous friction facts and make a Friction Santa!
Pine Cone Party – What is a pine cone? Find out how this prickly pod spreads its seeds.
Pascal's Puzzle – We discover a mysterious maths pattern and use it to create a tricky triangle Christmas card.
Elf Challenge – Festive Fun Games – Find out what silly science games the elves play and have a go at them too!
Parents, don't worry you get something too – you will also receive a 'TOP SECRET Parent Handout' that tells you:
What they DID?
What they LEARNT?
Other cool science you can EXPLORE AT HOME?
When:
December Christmas Holidays
Timings:
Default timings below, it may differ at some locations please see booking form above
9 am – 3:30 pm (6.5 hrs)
Earliest drop off 8:30am; latest collection 4pm, by email or telephone request (extra £10).
Pricing:
For the best price available to you, please see booking form above
Early Bird Discount is available for Full Week Places
Website automatically implements Early Bird Discount.
Normal Price: per week 5 days – premium hands-on science activities
Day rates:
We offer a limited amount of daily places for a higher daily charge
These can be booked by emailing info@mnature.co.uk
It always works out more cost-effective to book for the whole week.
Multi-Booking Discount
Are you booking more than one week, child or sibling now? GREAT!
£10 off full price (-£5/child) when you book 2 weeks / children
Coupon Code: C5
£30 off full price (-£10/child) when you book 3 weeks or children
Coupon Code: C10
£60 off full price (-£15/child) – when you book 4 weeks or children
Coupon Code: C15
£100 off full price (-£20/child) – when you book 5 weeks or children (-£20/child)
Coupon Code: C20
Please note: payment for multi-book / child / sibling discount needs to be made in a single payment transaction.