Description
February Half-Term Spring Holiday Science Activity Camp 2022
Science Whizz!– New for 2022
Book with Confidence! – Our educational Childcare can run as normal in any Lockdown or Tier level and we are offering Full ' No Quibble' Refunds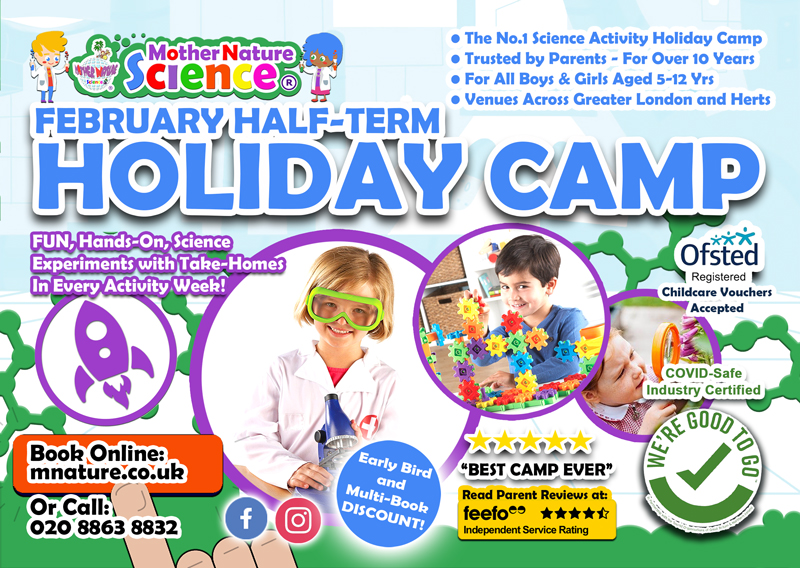 Book with confidence! Our Camps are classed as a high priority 'Children's Educational Settings, Childcare and Group Activities' and thus exempt from the new UK rules that came into effect for general 'Social Gatherings'
'No quibble' refunds for all bookings
Certified 'We're Good to Go' COVID-Safe
Winner 'Best Holiday Camps' voted by 1,000's of Parents in the Hoop Awards
The No. 1 Parent-Trusted Holiday Science Activity Camp for over 10 Years
For Girls and Boys Ages 5-12
Monday 14 to Friday 18 February (5 Days)
9 am – 3:30 pm (Extended hrs 8:30 am – 4 pm)
At Select School Venues Across London
All Cards Accepted and Childcare Vouchers at Registered Venues Only
Early-Bird and Multi-Booking Discount – Now in Place
For help or for more information email us: selondon@mnature.co.uk or tel: 020 3968 0987
Introduction:
Every year the Mother Nature Science Activity Camp inspires thousands of budding scientists, during all school Holidays and even the half-term breaks at premium Partner School Venues.
Everything You Need to Know Before you attend
Open to ages 5-12 – tried and tested 'mixed-age' dynamic
9 am – 3:30 – extended hours available
Maximum Class sizes of 20 children
Ratio of 1:10 Instructor to Child
Bring a packed lunch – only tap water provided
All equipment provided
During the sessions
Indoor and outdoor activities – bring comfy clothes
Four classroom-based fun, hands-on, science sessions per day, with wow-factor demonstrations and take-home experiments – across chemistry, biology and physics
Three 'Playground-Activity-Breaks' per day, including: football, hoola-hoops, tennis, skipping-ropes, bubble-guns, parachutes, bean-bags and stomp rockets – and more!
About the Venues
Located across London and Herts
Parking on street where available, though we recommend walking, scooting or public transport!
Activity Week Programme
Science Whizz!
– New Safe Activities for 2022
This investigate-tacular 5-day camp is science expedition into the unknown and over the week your child will do 40+ science activities, exciting demonstrations, hands-on experiments, team games and fun quizzes – across Chemistry, Biology and Physics!
Every Day includes: 4 indoor classroom-based fun, hands-on science sessions and 3 outdoor 'Activity Playground Breaks'
Disclaimer: Please note the order of the Activity Week Programme is subject to change. Should you wish to confirm the order of the Activity Week Programme at your camp venue; this will not be available until 1 week before the start of the camps.
Day 1: Science Mix!
The scientists are mesmerised by the science behind rainbows by looking through diffraction glasses before making their own take home rainbow paper! They then move on and investigate the science behind the centre of mass and make their own Balancing Robot! We will then look at the science behind rockets before making a balloon propelled rocket!
Rainbow Paper!
Balancing Robot!
Balloon Zoom!
Super Slime!
Day 2: Science Fun!
The Whizzes start off as chemists where they learn about the process of crystallisation before making their own crystal letters to take home! They investigate the power of static electricity and make their own Flapping Static Animal! Staying on the topic of animals, the children are then challenged to make some 3D Dinosaurs models!
Crystal Letters!
Static Shock!
Dino Discovery!
The Fun Zone – We re-cap the activities with quizzes and challenges designed to reinforce the day's learning.
Day 3: Science Blast!
On this day, the scientists have a fun session to see which Whizz has the best lung power by making their own floating Ball Game! They then look at the surface of the Earth and go deeper to see what is inside. They make their own Earth's cross section model. We end this day looking at animals on Earth and their food chain. We make a 'Food Chain Cup Stack'! The children take part in friendly word scrabble and colouring challenges.
Hover Ball Game!
Whole Earth!
Food Chain Cup Stack!
Our Diverse Planet – Super Birds!
Day 4: Science Slam!
The children are launched into a day of science fun where they start off with making their own movie with a simple take home stroboscope! We look more closely at the world of illusions before making a hummingbird spinner. Then we move on to investigate the science behind coloured dyes and make chromatography flowers!
In a Spin!
Hummingbird Spinner!
Chromatography Bouquets!
The Fun Zone
Day 5: Science Wham!
We end the week by taking a look at the water cycle and making a water cycle model to see the effect of precipitation on Earth! Then we explore taxonomy, or how to sort animals. There are 5 different groups and we will investigate them all. Then we look at our Fantastic Flying Fish – is it a bird, is it a fish, no it's neither, it's a plane!
Rain, Rain Go Away!
MR FABI!
Flying Fish!
The Fun Zone
Remember – you as Parents will also receive a TOP SECRET Handout that tells you:
What They DID?
What They LEARNT?
Other cool science you can EXPLORE AT HOME?
When:
See booking form for this year's dates
February Half-Term Holidays (5 days)
Timings:
Default timings below, it may differ at some locations please see booking form above
9 am – 3:30 pm (6.5 hrs).
Earliest drop off 8:30 am; latest collection 4 pm, by email or telephone request (extra £10).
Pricing
For the best price available to you, please see booking form above
Early Bird Discount is available for Full Week Places
The website automatically implements the Early Bird Discount.
Discounts available if your child attends the school venue, please enquire with your school
Multi-Booking Discount is available, below for friend group bookings, siblings and multiple weeks. Single payment transaction – only.
Places fill up 1 month in advance at some venues, so don't miss out.
Day rates:
We offer a limited amount of daily places for a higher daily charge – no discounts apply
These can be booked by booking and selecting "pay by other method" – then emailing selondon@mnature.co.uk with your required days. It always works out more cost-effective to book for the whole week.
Multi-Booking Discount
Are you booking more than one week or child now i.e. Siblings or with your Friends? GREAT! Use one of the codes below to BOOST your SAVING.
I'm booking:
£10 off full price (-£5/child) when you book 2 weeks / children
Coupon Code: C5
£30 off full price (-£10/child) when you book 3 weeks or children
Coupon Code: C10
£60 off full price (-£15/child) – when you book 4 weeks or children
Coupon Code: C15
£100 off full price (-£20/child) – when you book 5 weeks or children (-£20/child)
Coupon Code: C20
Note: Discount Basket codes are valid at participating offices only and difference payments may be requested if misused.