Description
October Half-term
Science Activity Holiday Camp 2021
Spooky Science!
Book with Confidence! – Our 'Wraparound Childcare' can run as normal in any Lockdown or Tier level
We Offer Full ' No Quibble' Refunds – in the unlikely event of cancellation or for any reason you give.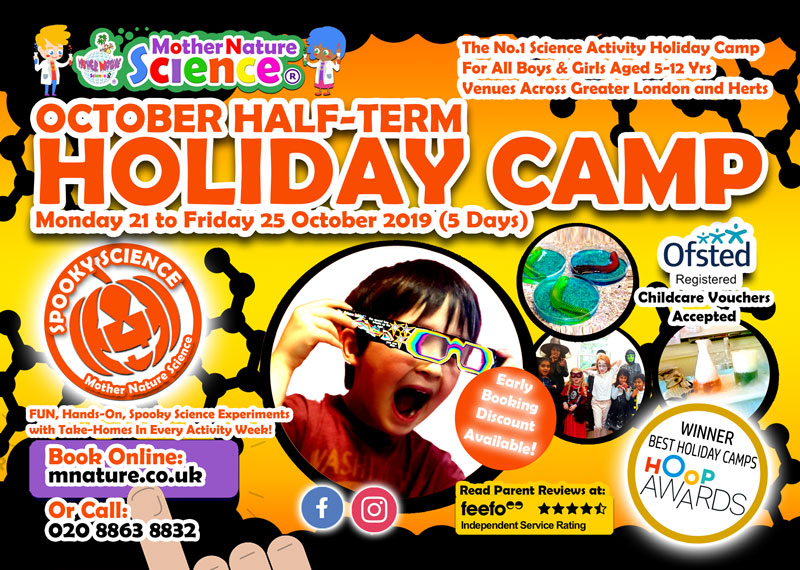 Book with confidence! Our Camps are classed as a high priority 'Children's Educational Settings, Childcare and Group Activities' and thus exempt from the new UK rules that came into effect for general 'Social Gatherings'
Certified 'We're Good to Go' COVID-Safe
'No quibble' refunds for all bookings
Winner 'Best Holiday Camps' voted by 1,000's of Parents in the Hoop Awards
The No. 1 Parent-Trusted Holiday Science Activity Camp for over 10 Years
For Girls and Boys Ages 5-12
Dates: October Half-Term 2021 (see online booking form 'Where' and 'When' for specific Dates)
9 am – 3:30 pm (Extended hrs 8:30 am – 4 pm)
At Select School Venues Across London
All Cards Accepted and Childcare Vouchers at Registered Venues Only
Early-Bird and Multi-Booking Discount available (see below)
Everything You Need to Know
Every year the Mother Nature Science Activity Camp inspires thousands of budding scientists, during all school Holidays and even the half-term breaks at premium Partner School Venues.
Before you attend
Designed as a week-long camp, for maximum benefit to your child*
*You can book 'individual days' at a premium rate and no discount is applicable. Booking for the whole week is is much more cost effective.
Open to ages 5 – 12 – tried and tested 'mixed-age' dynamic
9 am – 3:30 pm – extended hours available
Maximum Class sizes of 20 children
Ratio of 1:10 Instructor to Child
Bring a packed lunch – only mineral water provided
All equipment provided
During the sessions
Indoor and outdoor activities – bring comfy clothes
Four classroom-based fun, hands-on, science sessions per day, with wow-factor demonstrations and take-home experiments – across chemistry, biology and physics- See Activity Programme – what they do below!
Three 'Playground-Activity-Breaks' per day, including: football, hoola-hoops, tennis, skipping-ropes, bubble-guns, parachutes, bean-bags and stomp rockets – and more!
About the Venues
Located across London and Herts
Parking on street
The Benefits for your Child
Activity Programme – what they do!
Spooky Science! – New Activities for 2021
This spooky Halloween themed 5-day camp is science expedition into the spooky unknown and over the week your child will do 30+ science activities, exciting demonstrations, hands-on experiments, team games and fun quizzes.
Every Day includes: 4 classroom-based fun, hands-on, science sessions and 3 'Activity Playground Breaks'
Disclaimer: Please note the order of the Activity Week Programme is subject to change. Should you wish to confirm the order of the Activity Week Programme at your camp venue; this will not be available until 1 week before the start of the camps.
Day 1> It's Hallow Scream!
We start the week with a virus awareness challenge, what are they, what do they do and most importantly how can we beat them?! We plunge into the deep, dark ocean and learn how pressure affects density. Then we create a spooky shadow show and see how light travels in a straight line and try to complete the bouncing light challenge. We investigate elastic potential energy – POP!
Coughs and Sneezes! – We make a virus model and learn why coughs and sneezes spread diseases.
Deep Sea Monster! – We make a pressure-diving deep sea monster!
Weird Shadows! – We discover how shadows are created and scare our friends with a shadow show.
Pop-Up Poltergeist! – The children experiment with storing and transferring energy then make a popping toy!
Day 2> Fang-Tastic Fun!
Children discover their green fingers and learn how to nurture their giant pumpkin seed. Then we look at the conservation of Energy – we learn that energy is neither created nor destroyed, only transferred. We go deep into squishy cell biology and make a super-sized cell!
Jumping Spiders! – We turn kinetic energy into scream energy by making a jumping spider!
Ghastly Greenhouse! – We investigate some seed secrets then make a perfect habitat for our pumpkin seedling.
Squishy Cells! – We discover the building block of our bodies and create a model cell.
The Fun Zone! – We re-cap the activities with quizzes and challenges designed to reinforce the day's learning.
Day 3> Spook-Tackular Science!
Autumn is a time of changing colours, we discover why leaves go brown, red and orange. If the weather allows, we may have a leaf hunt. We raise the Skull and Cross Bones and power our pirate ships with jet propulsion. We find out who has arachnophobia and then dispel some spider myths with our terrifyingly cute tarantula.
Forever Autumn! – A chromatography experiment shows us the hidden colours in leaves.
Pirate Ghost Ship! – We use Newton's Third Law of Motion to jet propel our pirate ships.
Incy-Wincy Tarantula! – Spiders are fascinating creatures; we learn loads of super spider facts.
The Fun Zone! – We re-cap the activities with quizzes and challenges designed to reinforce the day's learning.
Day 4> Happy Haunting!
Now you see it, now you don't! We look at reversible and non-reversible reactions and make a ghost disappear. We listen carefully as we learn about pitch and what makes a sound truly spine-chilling. We then experiment with bases and acids to make an expanding gas. Finally, we end the day by investigating some non-Newtonian fluids – our super Cauldron Slime!
Vanishing Ghosts! – We make things disappear – but only some of them come back!
Howling Werewolf! – Spooky sounds are created when we make a howling werewolf!
Franken Balloons! – We investigate solids, liquids and gases, and chemical reactions.
Cauldron Slime! – No Halloween would be complete without some of the ooziest, gooiest slime around!
Day 5> Toil and Trouble!
We explore different ways of harnessing energy. We delve into the 3 main states of matter and harness the expansive power of gases to supercharge our witch's broom. We meet Barry the Unbelievable Balancing Bat who will show us how best to balance. We end with an exciting chemistry experiment that helps us learn about chemical reactions.
Smashing Pumpkins! – Potential energy helps us to feed a hungry monster, as we catapult pumpkins into the monster mouth.
Witch's Broom! – We have some explosive fun while powering our witch's broomstick.
Balancing Bats! – Where is our centre of gravity? We find out then try balancing our bats!
Vampire Vomit! – We investigate molecules and create an expanding chemical reaction!
Parents, don't worry you get something too – you will also receive a 'TOP SECRET Parent Handout' that tells you:
What they DID?
What they LEARNT?
Other cool science you can EXPLORE AT HOME?
When:
See online booking form above 'Where' and When' for available dates at venues
October Half-term Autumn 2021
Timings:
Default timings below, it may differ at some locations please see booking form above
9 am – 3:30 pm (6.5hrs).
Earliest drop off 8:30 am; latest collection 4 pm, by email or telephone request (extra £10).
Pricing
For the best price available to you, please see booking form above
Full Week Places (Discount Available)
Early Bird Discount is available! Up to 3-Weeks in advance of camp start date
Website automatically implements Early Bird Discount.
Normal Price: per week 5 days – premium hands-on science activities
Multi-Booking Discount is available, below for full-week friend group bookings, siblings and multiple weeks. Single payment transaction – only.
Places fill up 1 months in advance at some venues, so don't miss out.
Day Rates (no Discount):
We offer a limited amount of daily places for a higher daily charge
How to book Day places: simply place your order online normally ignoring the full-week price and at the final 'Checkout Page' in the 'Additional information' box – type your preferred day/dates or requests and select 'Pay by Other Method' ('BACS, Cheque, CV Childcare Voucher') – not Pay by Card. Our Team will then email your balance and how to pay.
Multi-Booking Discount
We reward parents who book multiple full-week places, siblings or together in a group with friends. See an example below where you can save up to £100 by booking with your friends. e.g. 👩 Sarah Booked online for her 5 friends as per below using Basket Code C20 and saved everyone £20 and £100 in total.
£10 off full price (-£5/child) when you book 2 weeks / children
£30 off full price (-£10/child) when you book 3 weeks or children
£60 off full price (-£15/child) – when you book 4 weeks or children
£100 off full price (-£20/child) – when you book 5 weeks or children (-£20/child)
Please note: friends in a group can also book online separately (choosing Checkout, Pay by Other Method) but one friend must pay for everyone via a single transaction bank transfer to qualify for the multi-book discount – you cannot pay separately. Available at participating offices only.