Mother Nature Science Update:
We are running Holiday Camps, Birthday Parties In-School Science Clubs and Workshops as normal – all available for online booking. In any situation, we will continue to offer full 'no-quibble' refunds for all bookings.
Booking Online Now – as normal:
> 2024 Holiday Camps – Here
> Birthday Parties – Here
> After-School Science Clubs (for schools) – Here
> Science Week Workshops (for schools) – Here
Book with confidence! All our science activities are now 'We're Good to Go'  Industry Certified COVID-Safe Here
Read Our COVID Ready Safety Statement in Full Here
Key Benefits for your Child
For Parents
We provide your children with the most inspiring, fun, hands-on, chemistry, physics and biology science activities!
Are you a Teacher or School – Click Here
For Schools
We provide your Pupils with the most Enriching, Curriculum linked Chemistry, Physics and Biology In-School Science Clubs, Workshops and Shows!
Mother Nature Science Franchise Opportunity
Welcome to the Mother Nature Science Franchise Opportunity!
Educate and inspire the minds of children ages 5-12 with our unique learning method STEM sessions
30+ years of education, entertainment and business expertise
British Franchise Association (BFA) Member
Full training and unlimited support provided
All-year-round, upscalable and proven Management Franchise Business Model
Affordable operating costs, low overheads and high-profit margins
Start-up operations and marketing equipment provided
Investment from £18,000 – UK and International locations available
Get more information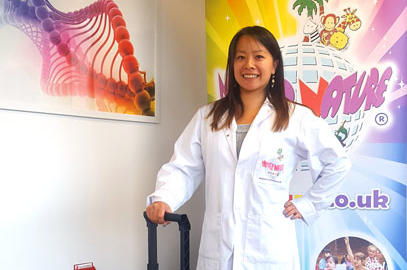 Reviews
More About Mother Nature
Our Approach
Mother Nature Science ensures children everywhere are able to 'have fun with science', with that instill a clearer understanding of what science is really about and how it affects the world around them.
We have found that focusing on learning through hands-on enquiry based practical science activities means children improve rapidly and both child and parent feel proud of their progress.
Our Ability Level
Mother Nature Science has designed over 200 lesson plans for children between the ages of 5 to 12 years across our four Core Products. In the United Kingdom, our sessions and linked to and supplement the National Curriculum for Key Stages 1 and 2.
Sessions have a tried and tested mixed-age dynamic which works well as it promotes teamwork and gives extra responsibility to the older children and helps stretch the younger children. Sessions are limited to 20 children and we operate on a ratio of 1- 10 with our instructors so we have one main presenter and an assistant who is there especially to look after the younger children.