Description
February Half-Term Spring Holiday Science Activity Camp
Science Investigators! – New for 2021
Book with Confidence! – Our educational Childcare can run as normal in any Lockdown or Tier level and we are offering Full ' No Quibble' Refunds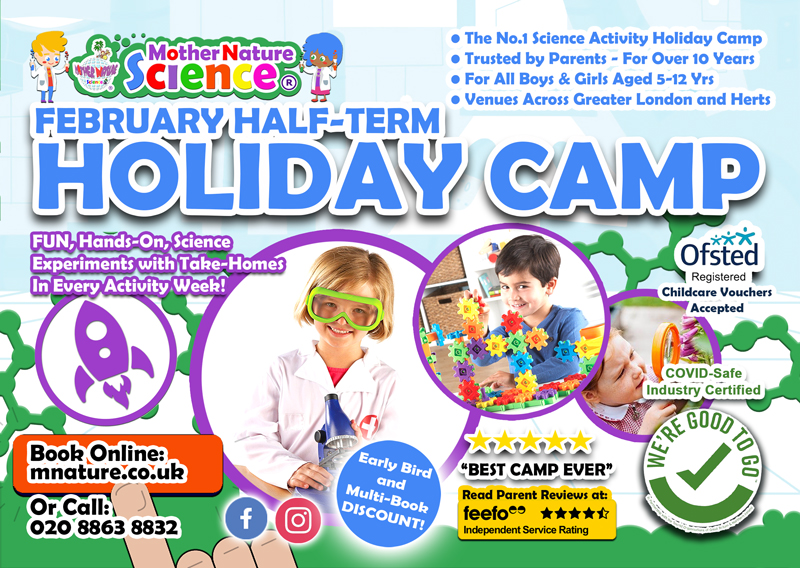 Book with confidence! Our Camps are classed as a high priority 'Children's Educational Settings, Childcare and Group Activities' and thus exempt from the new UK rules that came into effect for general 'Social Gatherings'
'No quibble' refunds for all bookings
Certified 'We're Good to Go' COVID-Safe
Winner 'Best Holiday Camps' voted by 1,000's of Parents in the Hoop Awards
The No. 1 Parent-Trusted Holiday Science Activity Camp for over 10 Years
For Girls and Boys Ages 5-12
Monday 15 to Friday 19 February (5 Days)
9 am – 3:30 pm (Extended hrs 8:30 am – 4 pm)
At Select School Venues Across London
All Cards Accepted and Childcare Vouchers at Registered Venues Only
Early-Bird and Multi-Booking Discount – Now in Place
Introduction:
Every year the Mother Nature Science Activity Camp inspires thousands of budding scientists, during all school Holidays and even the half-term breaks at premium Partner School Venues.
Everything You Need to Know Before you attend
Open to ages 5-12 – tried and tested 'mixed-age' dynamic
9 am – 3:30 – extended hours available
Bring a packed lunch – only mineral water provided
All equipment provided
During the sessions
Indoor and outdoor activities – bring comfy clothes
Four classroom-based fun, hands-on, science sessions per day, with wow-factor demonstrations and take-home experiments – across chemistry, biology and physics
Three 'Playground-Activity-Breaks' per day, including: football, hoola-hoops, tennis, skipping-ropes, bubble-guns, parachutes, bean-bags and stomp rockets – and more!
About the Venues
Located across London and Herts
Parking on street
The Benefits for your Child
Activity Week Programme
Science Investigators!
– New Safe Activities for 2021
This investigate-acular 5-day camp is a science expedition into the unknown and over the week your child will do 30+ science activities, exciting demonstrations, hands-on experiments, team games and fun quizzes – across Chemistry, Biology and Physics!
Every Day includes: 4 indoor classroom-based fun, hands-on science sessions and 3 outdoor 'Activity Playground Breaks'
Please note: the programme content and order may be subject to minor change.
Day 1: Fabulous Forces!
We start the camp off with a viral session designed to reinforce good hand hygiene during camps. Then we jump straight into forces fun and investigate different forces. We become fearless fighters of Friction Force to speed up our model cars and then use Magnetic Force to race mini cars around their own designed tracks!
Viral Viruses! – We start the week by washing our hands! We learn why hand hygiene is so important and investigate some gruesome germs.
Ready, Steady, Go! – How fast can your magnetic car travel around your racecourse?
Car Friction – Friction is a powerful force, can you adapt your model car to overcome friction?
The Fun Zone – We re-cap the activities with quizzes and challenges designed to reinforce the day's learning.
Day 2: Living It Up!
We become body detectives and discover the hidden world inside when we find out all about our internal organs. Then we measure our heart rates and make our own heart model! We end with everybody's favourite session – Slime!
Brilliant Bodies – Can you add all the body organs to the model body and then we make our own body model.
Super Slime – Our bodies are filled with lots of gross, gooey stuff – we make our own body slime. Super sticky fun!
Heart Beat – how does your body move blood around? We Look at the structure of our hearts and make a heart model.
The Fun Zone – We re-cap the activities with quizzes and challenges designed to reinforce the day's learning.
Day 3: Super Structures!
In a day focused on engineering challenges we compete in teams to construct the tallest towers – Easier said than done! We then design our own strong home to withstand some powerful forces. Then in a head to head with the Professor we use our knowledge of momentum to construct marble mazes!
Strong House – Using the science of strong shapes we build a house to withstand earthquakes and hurricanes!
Marble Maze Run – We see momentum in action as we race marbles in Marble Run Madness!
Tallest Tower Investigation -We compete in teams to build the tallest free-standing tower!
The Fun Zone – We re-cap the activities with quizzes and challenges designed to reinforce the day's learning.
Day 4: Magic Materials!
We explore the properties of some materials and find interesting ways to use them. We investigate how to alter or enhance a materials' properties, then the children think very carefully about how to use some unusual materials to separate a number of different mixtures, then we investigate the properties of insulating materials to keep Mr Penguin warm!
Tough Ropes – What are forces? We investigate how to measure forces then make some rope and test how strong it is with a force meter.
Clean Water – We examine how a water filter works and then create our own to make muddy water clean again.
Insulation – How can we stay warm? We investigate the properties of insulating materials.
The Fun Zone – We re-cap the activities with quizzes and challenges designed to reinforce the day's learning.
Day 5: Fantastic Journeys!
Happy Birthday, the Chunnel is 25 years old! We celebrate and investigate this fantastic feat of engineering. Then we discover how an aeroplane stays in the air and try to keep our own creations airborne for as long as possible. Then we take a much smaller journey deep into the brain to find out how messages travel from the body to the brain.
Neuron Networks – We've used a lot of brainpower this week – but just how does the brain work?
Chunnel Games – We use some Chunnel Tunnel facts to make a Chunnel Chase board game.
Air Journey – We learn the Four Fantastic Forces of Flight and have some flying fun.
The Fun Zone – We re-cap the activities with quizzes and challenges designed to reinforce the day's learning.
Remember – you as Parents will also receive a TOP SECRET Handout that tells you:
What They DID?
What They LEARNT?
Other cool science you can EXPLORE AT HOME?
When:
See booking form for this year's dates
February Half-Term Holidays (5 days)
Timings:
Default timings below, it may differ at some locations please see booking form above
9 am – 3:30 pm (6.5 hrs).
Earliest drop off 8:30 am; latest collection 4 pm, by email or telephone request (extra £10).
Pricing
For the best price available to you, please see booking form above
Early Bird Discount is available for Full Week Places
The website automatically implements the Early Bird Discount.
Multi-Booking Discount is available, below for friend group bookings, siblings and multiple weeks. Single payment transaction – only.
Places fill up 1 month in advance at some venues, so don't miss out.
Day rates:
We offer a limited amount of daily places for a higher daily charge
These can be booked by emailing info@mnature.co.uk. It always works out more cost-effective to book for the whole week.
Multi-Booking Discount
Are you booking more than one week or child now i.e. Siblings or with your Friends? GREAT! Use one of the codes below to BOOST your SAVING.
I'm booking:
£10 off full price (-£5/child) when you book 2 weeks / children
Coupon Code: C5
£30 off full price (-£10/child) when you book 3 weeks or children
Coupon Code: C10
£60 off full price (-£15/child) – when you book 4 weeks or children
Coupon Code: C15
£100 off full price (-£20/child) – when you book 5 weeks or children (-£20/child)
Coupon Code: C20