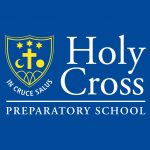 Holy Cross Preparatory School
Mother Nature Science Science Club Partner
George Rd, Kingston upon Thames KT2 7NU
To see if this this partner venue is running any of our events please check either:
Contact Us
or
Call Now
About this School
"We are proud to be named Prep School of the Year 2013 by
THE SUNDAY TIMES"
"The school is situated in eight picturesque acres of both historical and literary interest. In the early 13th century the estate was owned by the Crown. In 1215 King John gave Coombe to Hugh de Nevill, so from the time of Edward the Confessor the land on which the school now stands belonged to many important people connected with the kings and queens of the time.
In the grounds of the school is the ancient monument 'The Ivy Conduit', part of an elaborate water system built in 1516 to supply Cardinal Wolsey's newly built Hampton Court Palace. The Conduit House fell into disrepair after being damaged by a V1 bomb in June 1944. In 2004 the school applied for a grant from English Heritage and much needed repairs and consolidation work was carried out. The Conduit can be visited by appointment, please contact richard.fishenden@holycrossprep.com to arrange a visit, or as part of the national 'Heritage Open Days' which occur annually in September – see local press for details.
In 1870 John Galsworthy Senior bought 24 acres of land at Coombe, and built Coombe Ridge House, the building that the school now occupies. In 1875 he and his family moved in. Much of his son John's writing beginning with 'Man of Property' and the 'Forsyte Saga' was written whilst the family lived here. Young John was known to sit in the grounds by the pond to gain inspiration for his writings.
Our historical school building, which is listed for its architectural interest, was featured in the Sunday Times Home Magazine as the setting which inspired the ITV adaptation of 'The Forsyte Saga' in April and May 2002."