Daily Mail Mother Nature Science Franchise
Transcription:
Sweet science of teaching can earn you a great living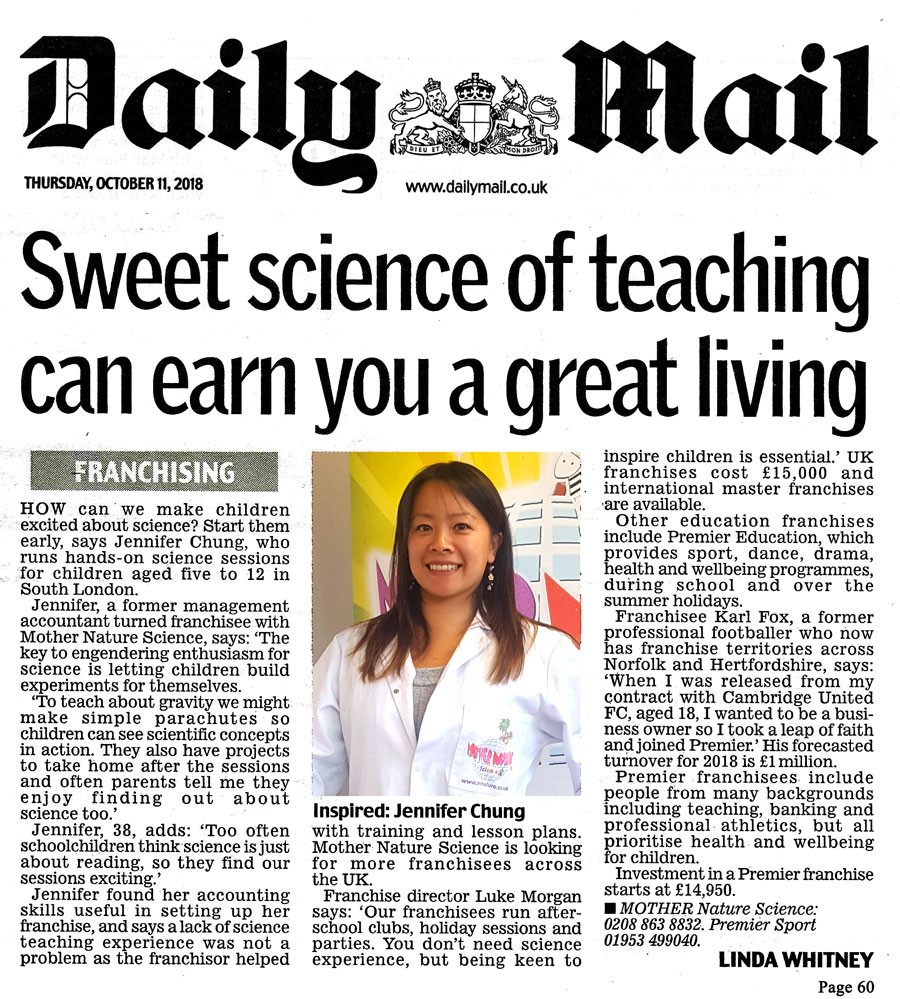 HOW can we make children excited about science? Start them early, says Jennifer Chung, who runs hands-on science sessions for children aged five to 12 in South London.
Jennifer, a former management accountant turned franchisee with Mother Nature Science, says: 'The key to engendering enthusiasm for science is letting children build experiments for themselves.
'To teach about gravity we might make simple parachutes so children can see scientific concepts in action. They also have projects to take home after the sessions and often parents tell me they enjoy finding out about science too.'
Jennifer, 38, adds: 'Too often schoolchildren think science is just about reading, so they find our sessions exciting.'
Jennifer found her accounting skills useful in setting up her franchise, and says a lack of science teaching experience was not a problem as the franchisor helped
Inspire Jennifer Chung with training and lesson plans. Mother Nature Science is looking for more franchisees across the UK.
Franchise director Luke Morgan says: 'Our franchisees run after-school clubs, holiday sessions and parties. You don't need science experience, but being keen to inspire children is essential.'
UK Franchises cost £15 ,000 and international Master Franchises are available.
Call 020 8863 8832 for more information Or use the Contct Form
FRANCHISING, Daily Mail, THURSDAY, OCTOBER 11, 2018, Page 60
LINDA WHITNEY
www.dailymail.co.uk